We don't just work side by side. We maintain a Scout24 Culture Code. This code describes who we are as a company — our very own Scout24 DNA. Our culture influences everything we do: how we approach tasks, share information, define success, how we work together, how we communicate, make decisions, allocate tasks, and much more.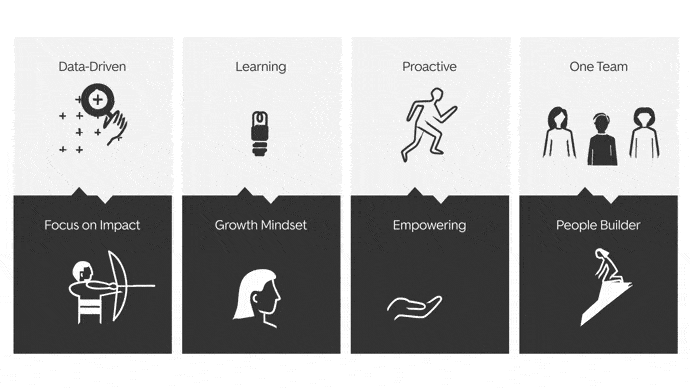 We don't make decisions on instinct. We base our decisions on facts and figures. We also set priorities to achieve our goals - even if they are ambitious. We give each other feedback and talk openly about successes and problems. We learn from each other and are not afraid of change. Mistakes are an opportunity for us to grow and to break new ground. We act proactively, strive for improvement and take responsibility. We learn from each other, develop new ideas, and implement them together. We are one team. We have a common goal. We treat each other with respect, celebrate success and value diversity. We support each other and develop our potential.
Our culture & values
Scout24 gives its employees the opportunity to shape their own culture.
But how exactly does a company develop its own culture with recommendations and guidelines? One option is to impose these top-down and then consider them set in stone. Scout24 has gone a different way because it is our conviction that employees shape corporate culture with their actions. And this is why Scout24 has given its employees the opportunity to shape and develop their own culture. Work kicked off in 2019, with a task group made up of employees from different departments and hierarchical levels. In workshops, they jointly defined what our culture – our DNA – looks like and what topics move us. In addition, more than 70 interviews were conducted with various company representatives. The results of the workshops and interviews ultimately gave rise to the Scout24 DNA Culture Code, which is applicable throughout the Company. The code describes who we are as a company and the standards that underpin how we work together. Integral to the Scout24 DNA Culture Code are our four core values. Our core values are: We are a Data-Driven company and are constantly Learning. We are Proactive, act as One Team and treat each other with respect. These core values apply to all employees, regardless of rank. To ensure that managers are also expressly committed to a values-driven corporate culture, four leadership behaviours were additionally derived from the core values.
We embrace diversity and inclusion
At Scout24, we want to create an inclusive environment in which everybody is valued fairly and has equal opportunities to succeed – regardless of their ethnicity, the colour of their skin, gender, sexual identity, age, religion, ideology, disability, marital status, nationality or any other attributes. We strongly believe that the diversity of our Scouts is a foundation for our long-term success. The more diverse our teams are, the more experience and ideas can flow into our products. This enables us to tailor them even better to the needs of our customers. More than that, an inclusive work environment fosters the loyalty and motivation of employees. Aiming to further increase awareness for the topic of diversity and inclusion among our employees, we implemented various campaigns, events and learning formats in the company in 2020. For example, on Diversity Day 2020, we offered digital information sessions on topics such as diversity in the hiring process and everyday discrimination. We also held company-wide anti-discrimination trainings. By the end of 2020, around 90 percent of employees had taken part in the training.
Diversity Statement 
We at Scout24 value and embrace the diversity that our employees bring to the company with their individual capabilities, talents and skills. Because we are convinced that precisely this diversity is the foundation for our success. People can only unlock their potential if they feel secure, valued and respected as individuals. We welcome everyone – regardless of gender, gender identity, sexual identity, skin color, ethnic origin, citizenship, ethnicity, religion or belief, disability, age or marital status.