We prioritise diversity and inclusion at Scout24. We want to live up to this claim, which is why we have expanded the Executive Leadership team – and thus also the highest management level – by introducing the role of Chief People & Sustainability Officer this year. In addition to diversity, we are also working intensively on various challenges. We continue to look at flexible working hours, hybrid solutions with a mix of working from home and the office, childcare when schools and nurseries are closed, and the desire for remote working – topics which have also increasingly become the new normal since the start of the COVID-19 pandemic. During this time we are guided by our core values, which form the foundations of how we work together and reflect our fundamental values. The pandemic has been a striking illustration of how important a good corporate culture is for employees. Scout24 has responded to the various needs and supports its employees with virtual socialising events, childcare, gym classes, mental health support and various other options.
Fair and attractive employer
For more than 20 years we have been an agile, dynamic and multicultural company at which our employees make a difference. We promote entrepreneurial thinking and innovation, we embrace diversity and equal opportunities, we tackle changes in our daily work, ensure occupational health and safe workplaces, offer bespoke training and education formats and seek to find the best talents for Scout24.
Everything we do is based on our DNA Culture Code – the jointly defined values and guiding principles of the work we do. The DNA Culture Code applies to all employees of the entire Scout24 Group. The four core values and four leadership behaviours are an integral part of the DNA Culture Code. They define who we are, what we do, and above all how we do it. They determine our culture and demand our commitment to exemplary conduct:
Unsere Core Values und Leadership Behaviours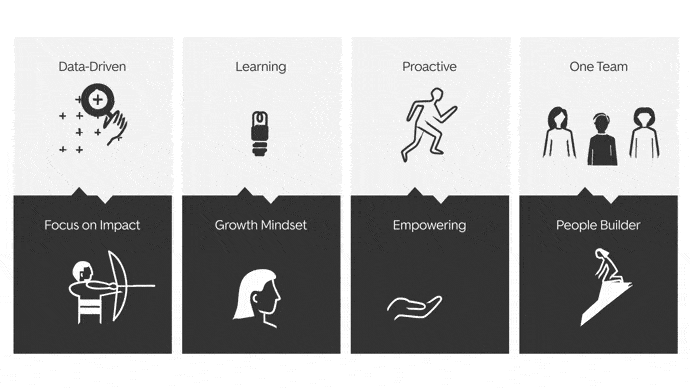 Scout24's people development strategy
The continuous personal development of our employees is one of the core values of Scout24. We invest in the training and education of our colleagues and support their development with personalised opportunities. Scout24 is synonymous with interdisciplinary, flexible, independent, creative, innovative and international work. Our people development strategy encompasses all projects, initiatives and objectives relating to employee development at Scout24. Our People Development team manages employee development.
Health and safety in the workplace
Our employees' health is very important to us. We safeguard it by always keeping a close eye on the constantly changing challenges and stress in their everyday work and in their private lives. This also includes designing a workplace that is safe and promotes health. In 2021, we were again faced with specific challenges due to the COVID-19 pandemic. Our primary objective was to support all of our employees through this difficult time and safeguard their health by preventing the spread of the virus. Our priority in 2021 was to create a safe working environment for our employees and allow them to return to the office voluntarily, with comprehensive safety measures in place.
The Central Administration & Facility Management department coordinates and manages all measures relating to safeguarding health. When it comes to safeguarding our health, ergonomics plays an important role in our daily work. This includes an ergonomic workplace, with appropriate furniture and equipment for jobs that mainly involve sitting at computer workstations.
In Berlin and Munich, yoga courses and specific back training programmes with external partners are offered at a discount as part of our portfolio of measures for safeguarding health. We of course offer the legally required medical check-ups such as eye check-ups (G37) at all of our sites. During the reporting period, all employees were also able to receive a flu vaccination.
We offer our employees drinks and balanced nutrition, including vegan and vegetarian dishes in our Berlin canteen. We started offering free fresh fruit and muesli each day again in July 2021, having temporarily suspended this due to the stricter hygiene rules.
Avoiding safety risks and hazards
The Central Administration & Facility Management department coordinates preventive measures relevant to safety at Scout24 in cooperation with other, internally appointed safety officers. The Occupational Safety Committee is the central internal body, which meets four times a year to identify potential and existing hazards and define appropriate measures. Members of the committee are the safety officers, representatives of the works council, the external safety specialist, the company doctor, the representatives of employees with severe disabilities, a representative of the company management and other internal or external experts as required.
Compatibility between family and career
Family-friendliness is part of Scout24's corporate culture and this has been the case since before the outbreak of the COVID-19 pandemic. Our People, Organisation & Culture team always has an open door for our employees and helps them balance their private and professional lives effectively. This entails offering all employees flexible working time models with trust-based working hours as well as options for part-time work or to work from home. It is also possible to arrange special leave for special personal events and leave, for example, to care for sick relatives. If employees wish to take time off, they can request unpaid leave which they can arrange individually within their team and with their supervisor.

Diversity & equal opportunities
Scout24 strives to do its best to support and celebrate all employees, regardless of ethnic origin, skin colour, gender, sexual identity, age, religion, world view, disability, marital status, nationality or other attributes. With our 53 nationalities (as of 31 December 2021), we are already embracing diversity and want to increase it further within our company. We want to do this because it is a key to our success. Our position on diversity, tolerance and equal opportunities is set out in our company-wide Code of Conduct. We take a zero-tolerance approach to any and all types of discrimination against employees, applicants and business partners.
The Executive Leadership team (ELT) is responsible for diversity and inclusion at Scout24. The Management Board is represented on the Executive Leadership team. The role of the Chief People & Sustainability Officer was added to the ELT in June 2021, bringing more importance to HR topics as well as diversity and inclusion. In business operations, the Executive Leadership team is supported by the People, Organisation & Culture department and the Principal Diversity & Inclusion Management – a position created in February 2020. In autumn 2021, we expanded this position to become Head of Culture, Development, Diversity & Inclusion, which brings together all dimensions of our corporate values and employee development. This means that we can act more holistically and benefit from synergies.
We want to avoid infringing the principles of equality from the outset and contribute to more diversity and inclusion within the company. For this reason, we rely on prevention in particular alongside our Group-wide Code of Conduct and various complaint mechanisms. In 2021, we took various actions, such as anti-discrimination trainings.
Fair remuneration and company benefits
A fair, transparent and attractive remuneration system is an important characteristic of a good employer. Our remuneration model contains clearly defined, transparent criteria and sets out a variable salary component for all employees who do not receive commission on sales.
We performed a variety of analyses in 2021 with a view to making our remuneration system even clearer and more comparable. For ImmoScout24 and Scout24 SE, we calculated the ratio of the average remuneration of our male and female employees according to hierarchy levels and functional areas. From the ongoing analyses and the adjustments based on these we do not see any substantial aggregated pay gaps between male and female employees.
Next level diversity & inclusion
We want to create an inclusive environment for all people
We want to promote the diversity of our teams and reinforce a culture where everyone feels valued, respected and safe. To this end, we have launched numerous initiatives regarding diversity and inclusion in 2021 – among others with the Sozialheld*innen association.
Go to story