Our mission: We make hard decisions easy
Choosing the right property is among the most difficult and important decisions in life. We want to put people in a position that allows them to make the best possible choices. We offer inspiration as well as practical support, and have successfully been bringing together owners, agents, tenants, and buyers for about 25 years. This mission is summarized by our brand essence:
Our values
Our success is determined by our performance and values. An essential part of our corporate culture are our four core values and our leadership behaviours. They define who we are, what we do and, above all, how we do it. We are proactive, act as one team and treat each other with respect.
These are the values that define us:
Our Core Values and Leadership Behaviours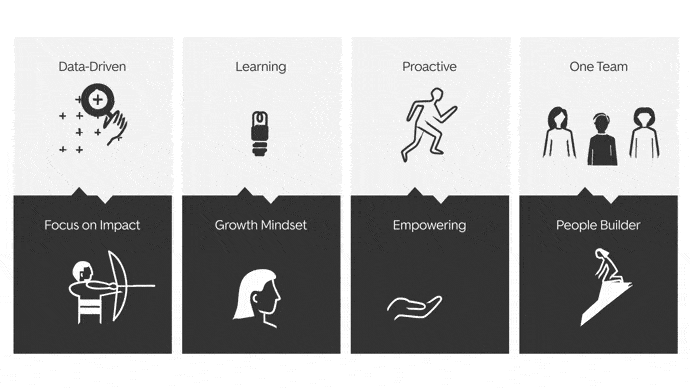 We don't make decisions on instinct. We base our decisions on facts and figures. We also set priorities to achieve our goals - even if they are ambitious.

We give each other feedback and talk openly about successes and problems. We learn from each other and are not afraid of change. Mistakes are a chance for us to grow and to go new ways.

We act proactively, strive for improvement and take responsibility. We learn from each other, develop new ideas and implement them together.

We are one team. We have a common goal. We treat each other with respect, celebrate success and value diversity. We support each other and develop our potential.
Learn more about the culture at Scout24 here.
Our Code of Conduct
Our success is largely determined by our services and our values. We have set out these values in our own corporate Code of Conduct. The rules of conduct and guidelines laid down in this Code of Conduct form the framework for responsible action and follow the principles of corporate governance. In addition to legal requirements, ethical and social standards are also taken into account.
The protection of privacy and the security of data processing is very important to us - as is the trust of our users, customers and employees. In our Data Protection Code of Conduct, we set out the guiding principles of our business activities with regard to data protection, transparency, the necessity of processed data and data minimization.