Focus on culture & diversity
Success is secured together: our Scout24 DNA
"Culture eats strategy for breakfast". The famous quote from economist Peter Drucker sums it up: the best corporate strategy is of little use if it's not backed up by motivated and committed employees to operationalise it. This requires one thing above all else: a strong corporate culture with a shared system of values and goals – as that is what determines how we do our jobs, share information, define success, communicate with each other, make decisions and split tasks. In short, it determines how people interact with each other in an organisation. But that's not all, a strong culture also helps setting the right priorities and making important decisions even faster. It is therefore essential for a company's success.
Scout24 gives its employees the opportunity to shape their own culture.
But how exactly does a company develop its own culture with recommendations and guidelines? One option is to impose these top-down and then consider them set in stone. Scout24 has gone a different way because it is our conviction that employees shape corporate culture with their actions. And this is why Scout24 has given its employees the opportunity to shape and develop their own culture.
Work kicked off in 2019, with a task group made up of employees from different departments and hierarchical levels. In workshops, they jointly defined what our culture – our DNA – looks like and what topics move us. In addition, more than 70 interviews were conducted with various company representatives. The results of the workshops and interviews ultimately gave rise to the Scout24 DNA Culture Code, which is applicable throughout the Company. The code describes who we are as a company and the standards that underpin how we work together. Integral to the Scout24 DNA Culture Code are our four core values.
Our core values are: We are a Data-Driven company and are constantly Learning. We are Proactive, act as One Team and treat each other with respect. These core values apply to all employees, regardless of rank. To ensure that managers are also expressly committed to a values-driven corporate culture, four leadership behaviours were additionally derived from the core values.
Our Core Values and Leadership Behaviours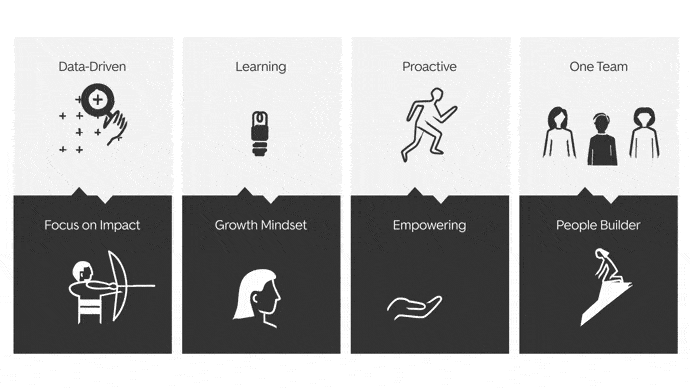 "To ensure that the values are regularly in focus, we have established a DNA Ambassador Network at Scout24."
In February 2020, the task group officially launched the Scout24 DNA Culture Code with a staff meeting and print and digital brochures. The Culture Code contains concrete recommendations on how employees can embrace the core values in their daily work. It provides guidance, for instance, on how we can make decisions consistent with our Data-Driven core value, i.e. on the basis of facts and figures, rather than gut feeling. Or how we, as One Team, make sure every colleague has the same sense of belonging. Our managers, too, can find inspiration in the brochures – for instance, on the topics of feedback and employee motivation.
"The DNA Culture Code brochure was a first step – but it is much more important that we shape our everyday working life in line with the core values," Jenny Walther explains. She has been with Scout24 since 2006 and, as Specialist Employee Experience & Engagement, is helping to anchor the Scout24 DNA Culture Code even more firmly in the Company. "To ensure that the values are regularly in focus, we have established a DNA Ambassador Network." The goal of the project group: employees from different areas develop actions and initiatives on topics of relevance to the DNA Culture Code. "We're not looking to talk employees into following our core values. We would prefer to inspire a conviction within them."
"Our culture has helped us navigate these
difficult Covid times together."
The coronavirus pandemic has emphatically brought home the importance of a good corporate culture, especially in a crisis. "Our culture has helped us navigate these difficult Covid times together. It has enabled us to act as a strong community in line with our One Team core value. Irrespective of the distance between us, we supported each other and overcame major challenges together. And all thanks to our unique Scout24 spirit," Jenny Walther recalls.
Just how close the topic of culture is to the hearts of Scout24 employees is also evident from the continuous growth of the DNA Ambassador Network since its launch in February 2020. Around 20 colleagues are now part of the initiative. And, of course, Jenny Walther has been there right from the outset. "I look forward to continuing to contribute to a strong and positive corporate culture at Scout24. Together, we are creating an environment where we all enjoy working and excelling together."
Our DNA ambassador network
Corporate volunteering during the pandemic
Our employees' sense of social responsibility is deeply rooted in our corporate culture. That is why Scout24 organises an annual Social Day as a key corporate volunteering project. On Social Days, employees can volunteer one of their working days for a variety of charitable causes. In 2020, on account of the pandemic, Scout24 modified the Social Day concept. "Social Day goes digital" was the motto. And that marked the kick-off of the Scout24 Social Summer. The initiative gave all Scout24 employees the opportunity to get involved digitally or from home over the summer.
We embrace diversity and inclusion
At Scout24, we want to create an inclusive environment in which everybody is valued fairly and has equal opportunities to succeed – regardless of their ethnicity, the colour of their skin, gender, sexual identity, age, religion, ideology, disability, marital status, nationality or any other attributes. We strongly believe that the diversity of our Scouts is a foundation for our long-term success. The more diverse our teams are, the more experience and ideas can flow into our products. This enables us to tailor them even better to the needs of our customers. More than that, an inclusive work environment fosters the loyalty and motivation of employees.
Aiming to further increase awareness for the topic of diversity and inclusion among our employees, we implemented various campaigns, events and learning formats in the company in 2020. For example, on Diversity Day 2020, we offered digital information sessions on topics such as diversity in the hiring process and everyday discrimination. We also held company-wide anti-discrimination trainings. By the end of 2020, around 90 percent of employees had taken part in the training.
#TogetherThroughTheCrisis –Scout24 takes responsibility for the industry
The Covid-19 pandemic hit us all suddenly and without warning. So, it was vital that we help each other and quickly support our customers and partners in these difficult times.
Go to story
How we stayed in touch with our stakeholders virtually in 2020
Go to story
"Avoid, reduce, compensate" – Scout24 on the way to climate neutrality
Go to story
Here you can download the complete Annual and Sustainability Report 2020 as a PDF file.